Qty
This product has a minimum quantity of 1000
Product Code: NCC1002
Above is just an indicative price, we will forward you the best quote after understanding your full requirements.
Tags: corporate gifts, door gifts
Aluminum foil card sets are made of software electromagnetic shielding material --- "aluminum foil" made of its function to eliminate electromagnetic interference (EMI) interference, shielding electromagnetic radiation on the IC card damage. At the same time with airtight, light, anti-static, anti-RF function.
Functions:
Protect your magnetic cards from EMI (Electro Magnetic Interference) damage,which would caused information lost.(This happens a lot if you put your card near your cellphone too often.)

Protect your contactless IC cards information from being stolen, including Identity Card, Credit Card, Employee's Card,ect

Protect your contactless IC cards chips from damage by weather and water-resistant.

Prevents electronic pick-pocketing.
Features:
Sleek silver design slides into your wallet, purse or card-holder with ease.

Water-resistant, puncture and tear-resistant

Can hold credit cards, debit cards, subway cards, driver's license, US resident green cards, etc.

Can be used as a special thoughtful gift to family and friends.

Can be used as company's promotional gifts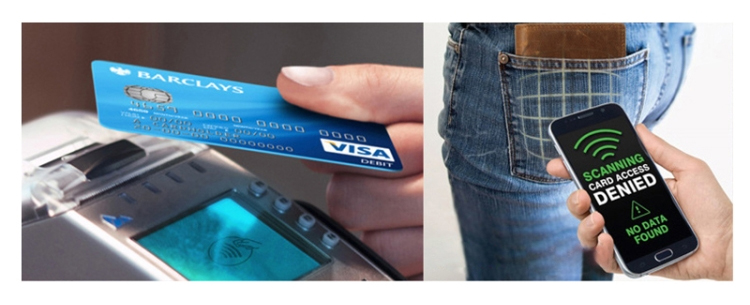 About
W6.2 x H8.8 cm, W6.2cm x H9.2 cm
Size of Card: W8.6cm x H5.4cm
Silver

Red

Blue

Black

** Printing: Full colour printing on both sides
Notice: Undefined variable: how_to_order_contents in /home/amphasis/public_html/vqmod/vqcache/vq2-catalog_view_theme_default_template_product_product.tpl on line 455